Ljubljanica Connects
project:
LIFE10 NAT/SI/000142
Restoration of the Ljubljanica River corridor and improvement of the river's flow regime
The aim of the project is to improve the transitivity and connectivity of Natura 2000 sites, by restoring the functionality of the Ljubljanica corridor connecting two Natura 2000 sites, i.e. Ljubljansko barje (Ljubljana Marshes) and Sava–Medvode–Kresnice. The project goals will be achieved through the removal of fish migration barriers, through improvement of the water regime, thus restoring habitats, through improvement of water infrastructure, water management, and establishment of hydrological monitoring. The target fish species, whose habitats are to be improved, are Danube salmon (Hucho hucho L.), Danube roach (Rutilus pigus Heckel) and Striped chub (Leuciscus souffia Risso).

Initially, the river engineering measures will include the sealing of the weir located before the railway bridge over the Ljubljanica in Zalog. Hence, during dry conditions, the water level shall not be lowered and the conditions in the oxbows of the Ljubljanica upstream will improve. The fishways at the dam at the Fužine Castle and the sluice gate at the Ambrose Square will be refurbished and renovated. This will enable the migration of fish, which is now severely impeded. The sluice gate on the Ljubljanica near the Ambrose Square will be refurbished. The existing chain lift mechanism enables a rather coarse control of the gate, and, consequently, of flows and water levels, resulting in the instant emptying of the stream (water levels) upstream. Upgrading or improvement of the gate will allow for a finer degree of control of the Ljubljanica water levels, especially during low flows and droughts. This is vital since the maintenance of the right level of the Ljubljanica affects the entire water regime of the Ljubljana Marshes.

The water regime in the Ljubljanica and its tributaries affects the habitats covered by Natura 2000 and also activities related to fisheries, tourism navigation, drainage/sewerage system, sound agriculture and, eventually, the entire infrastructure. During low water levels excessive drainage and subsidence of soil occur, deteriorating the state of the entire infrastructure. In essence, the project is multipurpose and multifunctional.

The project 'Ljubljanica Connects' connects the Natura 2000 and other aforementioned activities.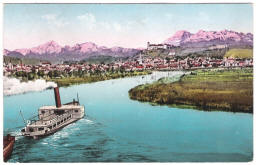 Steamboat coming to Ljubljana (1840 postcard)


With the contribution of the LIFE+ financial instrument of the European Community